---
Wellbeing Expert, Life Coach, Yoga Teacher, Teacher Trainer, and Author of Power Yoga: Strength Sweat and Spirit. 
---
Welcome. I'm Leah.
I am  a coach, wellbeing expert, yoga teacher, and author. I synthesizes timeless teachings with modern methods and make the lessons accessible and relevant for life today. 
I help you get out of your own way — out of your head and into your body so you are fully empowered to create an inspiring vision for your life, and your unique steps to get there. 
I work with women, leaders, and teams who are ready for an upgrade - body, mind, and spirit. 
---
---
---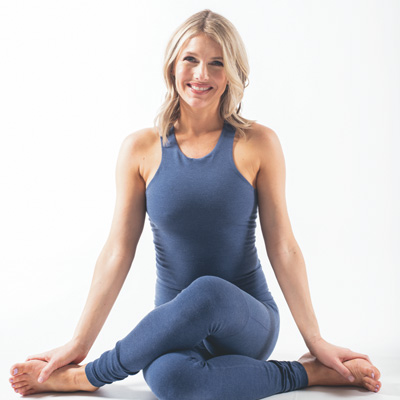 LIFE IS A DANCE AND NOT A PERFECT PATH.
I'm committed to having fun, loving big, and living a vibrant life.
---
My book Power Yoga: Strength, Sweat, and Spirit is available internationally and has been translated into four languages.
I served as the resident Yoga Expert with RoundGlass.com Please join me for a complimentary class with my on-demand class library.
I have been featured on the cover of Yoga Journal magazine, and I created the Yoga Journal online course Pillars of Power Yoga. 
---
I had the honor of leading Yoga at the White House.
I led Yoga on the White House lawn for annual White House Easter Egg Roll from 2009-2016, during the Obama years. Each year my team and I shared yoga with over 30,000 children and families on the White House lawn as part of a Presidential initiative to encourage healthy and active lives among children.
---
---
I teach classes and lead trainings ONLINE.
I created the 200-hour EMPOWERED Yoga Teacher Training. This hybrid program gives your the best of both worlds - you get over 200 elements within the online course, plus 12-weeks on live classes and 3 all day immersions in Austin at Castle Hill. The Empowered training is rooted in yoga tradition, and applicable to asana and everyday life.
If you want to develop your yoga practice or become a teacher, in this training you will learn how to weave the wisdom of yoga through your life for more purpose and inner peace. The Spring '23 cohort begins March 6th - learn more and enroll.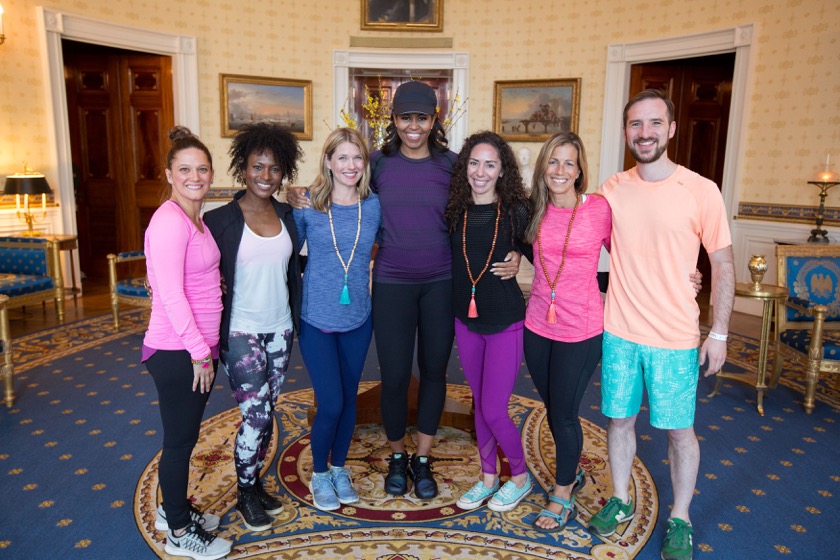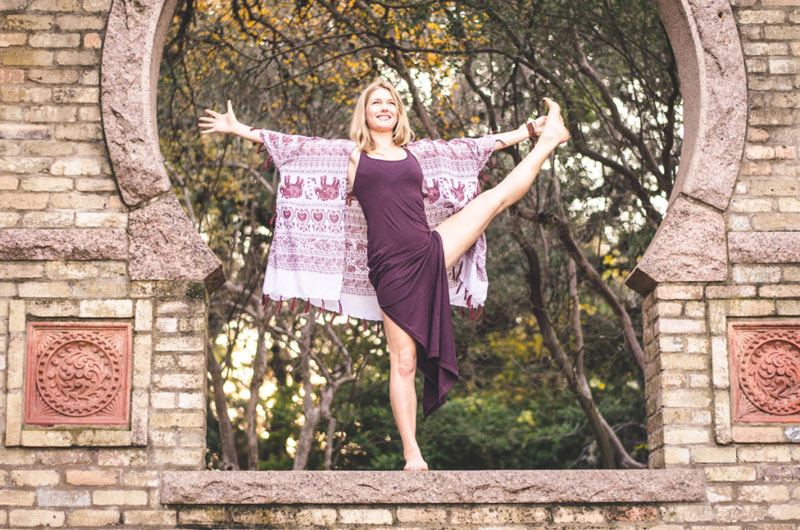 I AM ALWAYS A STUDENT FIRST.
---
I continue to deepen my studies of life, leadership with my teacher Susanne Conrad and Lightyear Leadership. I've had the honor of studying yoga closely with Baron Baptiste, Jonny Kest, Lama Marut, Dr. Deb Kern, and Seane Corn. I am forever grateful for their guidance, teachings, and contributions to my life.
I am a graduate of the Institute for Integrative Nutrition and have studied at the Optimum Health Institute.
---
My greatest honor is being a mama. I get to live, work, play, and love with my two kiddos and husband in beautiful Austin, TX.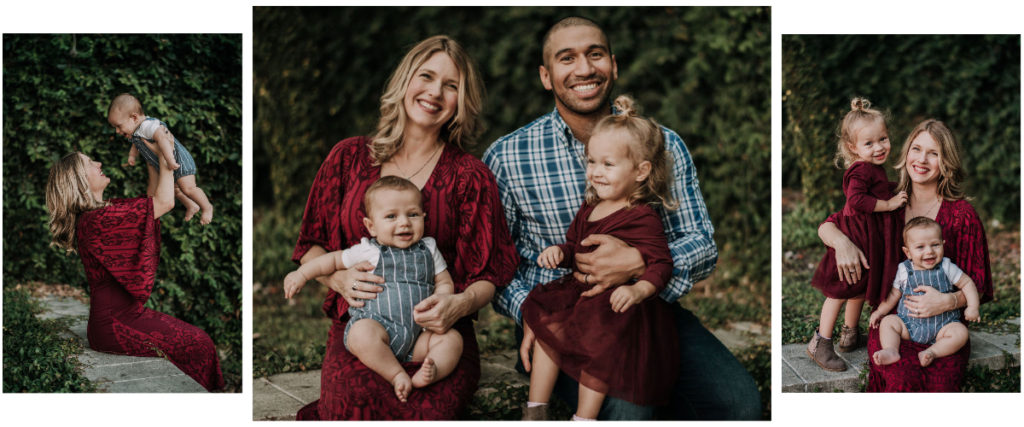 If you are interested in partnering, collaborating, or for bookings and  media inquiries contact me here.
---
---
---
I found my yoga practice when I hit a breaking point in my life.
In my mid-twenties I was working in the fast-paced world of political campaigns. I was living my life in my head, which caused me to become disconnected from my body. I was stressed out and burned out, and needed a way back to my own power. After a series of breakdowns and a trip to the emergency room, I began to listen to the calls from my body for more attention, self-love, and self-care.
I used this humbling moment to wake up and start living a more purposeful and vibrant life. I chose to look for the light and to find wisdom in my fall. Rather than pushing forward I started to go within, and yoga provided me with a roadmap for a new way of living.
I committed to my yoga practice, and I saw immediate results with my body, mind and spirit. My time on my mat became my sanctuary for self-care. I started to rebuild strength, sensation, and connection as I re-awakened my body. What I didn't realize at the time is that my yoga practice would become a vehicle for me to step into my power in all areas of my life.
On my mat, I was able to get out of my head and rediscovered feeling home in my body.
Yoga demands your full presence and puts you deeply in your body. And when you are in your body in the present moment, you can tap into your deep reservoirs of personal power. As I became more present, I began to see that my life is my divine creation and that it is up to me to live a life that I love.
---
---
---
I poured myself into my quest to live a more purposeful and fulfilling life. I took on my healing and partnered with incredible teachers and guides. I've dedicated my life to studying yoga, meditation, nutrition and spirituality. Through my personal journey with food, movement, and holistic living, I have found a spiritual and physical balance that helps me thrive, and created daily practices to increase my energy and expand the healing power that I found on my mat into all areas of my life.
---
Yoga has taught me how to bring things together; how to unite my body and breath, my mind with my intentions, and my actions with purpose. I've learned that it's not how far I go in a pose, it's who I am in the pose that matters. My falls have been essential for my growth. We learn through contrast, and have to know our edges to find center. It's all an opportunity to connect, to love, to celebrate, and to learn, especially when we feel like it's all falling apart. Every breath is an opportunity to create purpose.
If my journey resonates with you, let's connect and explore how we can do more together.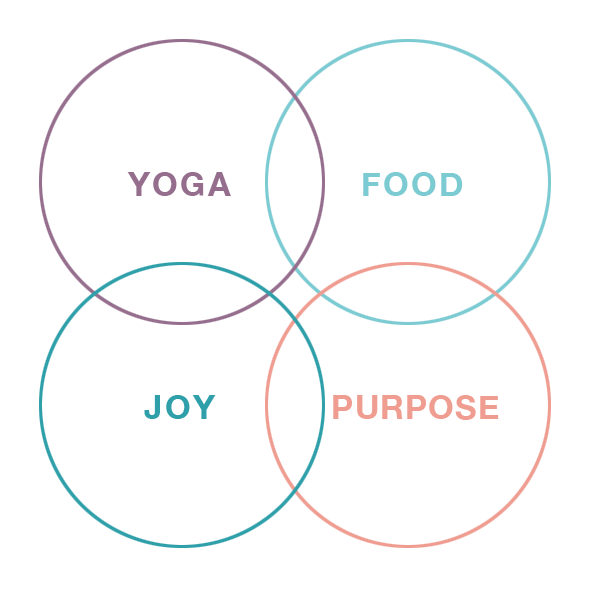 ---
My pillars for health + happiness
---
YOGA: Yoga is more than movement, it's a context for life. Yoga is my lens for living.
FOOD: What we eat fuels our life. Food creates the foundation for vibrant health and energy.
---
JOY: What we celebrate we expand. Choose joy, choose love, and choose light.
PURPOSE: Every breath is an opportunity to create purpose.