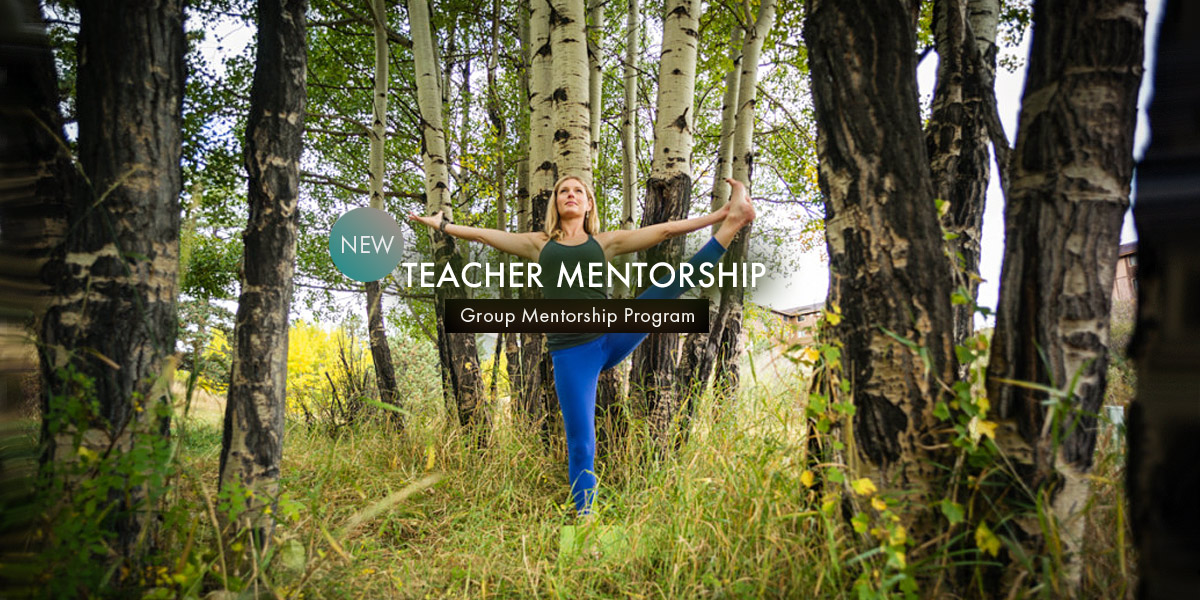 Wanderlust 300-Hour Teacher Training Program
July 29, 2016 @ 8:00 am

-

December 11, 2016 @ 5:00 pm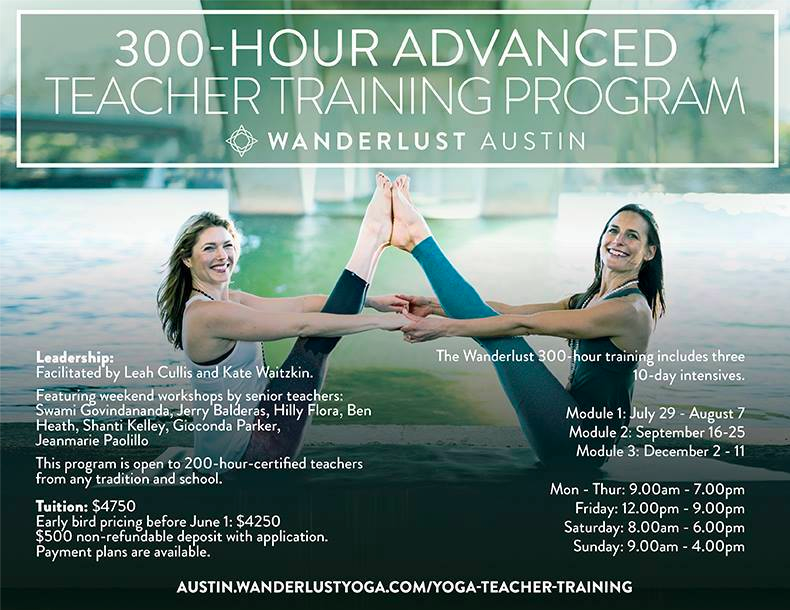 Wanderlust Yoga Austin is thrilled to announce our 300-Hour Advanced Teacher Training Program
In this program you will refine and master the material introduced in your 200-hour teacher training, explore in greater depth the many pathways of the practice, and further develop your unique voice and style as a yoga teacher.
This 5-month program will equip you with a broad and deep set of skills and insights to integrate into your practice and your teaching. The "advanced" aspect of this program is not simply about advanced postures, but about moving beyond knowledge and into a practiced and embodied understanding of the topics we consider essential to your growth as a professional yoga teacher.
This program is designed around a strong and supportive mentor-apprentice relationship, and our intention is to create an environment of focus, exploration, deep understanding, and growth.
We have assembled a team of senior teachers, mentors and experts to offer a comprehensive, well-rounded program steeped in lineage, tradition, and years of dedicated studentship and teaching. Our teaching team will guide you into the practices that are at the heart of yoga and prepare you to lead your students with confidence, compassion and skill.
In this training you will:
– Learn to design challenging and accessible classes through teaching form, action, intention and alignment
– Gain extensive knowledge on how to design classes with themes, music, and demonstrations
– Practice teach, give and receive live feedback and experience 1:1 coaching
– Learn advanced asanas, adaptations and advanced sequences
– Delve deeply into the practices of meditation and pranayama
– Learn assisting techniques and tools for basic and advanced poses
– Gain skills for developing workshops, facilitating groups and creating yoga events
– Deepen your understanding of anatomy and physiology
– Explore modern lifestyle practices and ethics for yoga students and teachers
– Learn effective presentation and communication skills for teaching
– Develop skills for working with beginners and special populations
– Deepen your understanding of yoga philosophy, the Bhagavad Gita, Yoga Sutras and the subtle body, and how they    relate to your life and teaching
– Cultivate your authentic voice and declare your gifts as a teacher
– Design custom strategies for your personal growth
– Expand your yoga practice on and off the mat
This program is open to 200-hour-certified teachers from any tradition and school.
Leadership:
This program is facilitated by Kate Waitzkin and Leah Cullis.

Featuring weekend workshops by senior contributing teachers:
Swami Govindananda
Jerry Balderas
Hilly Flora
Ben Heath
Shanti Kelley
Gioconda Parker
Jeanmarie Paolillo
Program Dates and Times:
The Wanderlust 300-hour training includes three 10-day intensives over 5 months.
Module 1: July 29 – August 7
Module 2: September 16-25
Module 3: December 2 – 11
Monday – Thursday: 9.00am – 7.00pm
Friday: 12.00pm – 9.00pm
Saturday: 8.00am – 6.00pm
Sunday: 9.00am – 4.00pm
Tuition:
$4750 —  Early bird pricing – before June 1: $4250
$500 non-refundable deposit with application. Payment plans are available.
Please use this Facebook Page to ask questions or to show your excitement!